Integral Physiotherapy & Sports Clinic
Edmonton Physiotherapy Clinic. Get well, live well and move well.
Located in downtown Edmonton, Integral Physiotherapy & Sports Clinic is a locally owned health and wellness company that offers you world-class physical therapy treatments, with the best technology, in an energetic, vibrant environment.
Book an appointment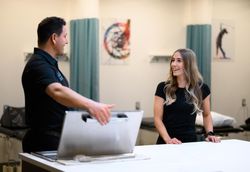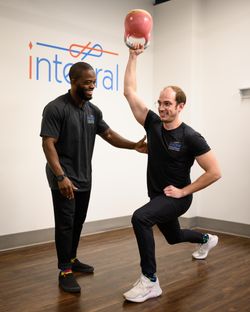 Superstar therapists
What sets us apart
Now's the time to discover how you, too, can benefit from physiotherapy services. With our professional support and a customized treatment program, recovering from injury and eliminating pain is no longer just a goal – it's within reach!
Our team of experienced therapists understands how it feels not being able to lift your kids or throw a ball because you are in pain. With over 400 five-star Google reviews, Integral Physio is one of Edmonton's best physical therapy clinics, helping you get back to pain-free living!
View all our services
Book online now with one of our superstar pain management therapists.
We're with you to get you performing at your best
Exceptional physiotherapy services in Edmonton
At Integral's Edmonton Physiotherapy & Sports Clinic, we focus on getting to the root cause of your injury instead of just putting "Band-Aids" on your pain.
The Integral Fam
Our physiotherapists
At Integral, we bring together an amazing team of physiotherapists and rehabilitation professionals who are highly skilled, ridiculously fun and truly compassionate about your results.
Check out the team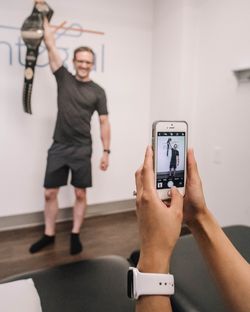 Empowering you
Let's get started on your rehab journey
Are you tired of your loved ones asking "have you tried __________ for your pain?" Do you LOL when people ask you questions like "do you have any pain today?"
Pain changes everything…It changes how we use our time and energy, what jobs (if any) we're able to do and every single relationship we have. At Integral, our passionate therapists will help you eliminate your pain and get you back to doing the things you love! Call us at 587-401-2371 to book an appointment today.
I will continue to use your services and more importantly be boasting about the phenomenal approach you take in helping your clients heal from an injury or live a better and pain free life through physiotherapy!
Ryan Sellers
Questions? We got you.
Frequently asked physio questions
Physiotherapists are medical professionals who specialize in treating injuries and conditions that impact movement. Our local Edmonton physiotherapists are experts in injury diagnosis, injury treatment, exercise prescription, injury prevention and rehabilitation of sports injuries.
Please bring the following items to your appointment:
Previous medical and/or surgical history
Relevant imaging reports such as x-rays, MRI, ultrasound, etc. (no worries if you don't have copies)
Copy of your extended health benefits information if we are direct billing
For WCB or MVA claims, bring your claim number and adjuster information
Fun attitude!
Please wear something that provides our physio staff with easy access to the body part that we are treating. Your best bet is to wear loose shorts and a t-shirt. For our female clients, we request that you bring a tank-top or sports bra that grants us access to your shoulder blade region. As always, we have Edmonton's most flattering pairs of shorts should you forget!
At Integral, we provide ourselves on making your customer experience as seamless as possible. We direct bill our physio services to the following companies:
Alberta Blue Cross
Sunlife
Medavie Blue cross
Canadian Armed Forces
Interim Federal Health Program
Royal Canadian Mounted Police
Veterans Affairs Canada
Green Shield
SSQ
Empire Life
Equitable Life
The Cooperators
Canada Life/Great West Life
Canada Construction Works Union
Chambers of Commerce Group Insurance
CINUP
ClaimSecure
Desjardin Insurance
Industrial Alliance
Johnston Group Inc.
Manulife Financial
Plus Many More
The number of treatments you require will depend on the reason for you visit. Some issues will take only one or two session to resolve, while more serious or chronic conditions will require multiple visits. At Integral, we strive to customize treatment plans to the individuality of each client.
No. A doctor's referral is not required to see a physiotherapist in Alberta. However, some health insurers require a doctor's referral before they allow us to direct bill.
First of all, we hate having to charge our clients any type of cancellation fees, so let's respect each other's time and give us a shout if you need to cancel or reschedule a physio appointment, even if it is within the required 24 hours (we are pretty understanding people). Here's what you need to know:
24 or more hours notice: no fee
Less than 24 hours notice: $20 fee
No-show or less than 2 hours notice: $50 fee
To cancel or reschedule an appointment:
Integral has ample free parking on 115 Street as well as 106 Avenue.
At Integral, we have numerous different physiotherapy services that vary in cost. We will give you a quick breakdown but be sure to contact our office if you have additional questions:
Your first appointment at Integral is for learning all about you! The physiotherapist will discuss your injury and conduct a thorough physical exam to diagnose your issues. The physio will explain your diagnosis and prognosis and work with you to develop a collaborative treatment plan. Your first appoint will also include a treatment and will take approximately one hour. Follow-up appointments are typically 30 to 45 minutes in length.
Yes, our Edmonton physical therapy clinic provides physiotherapy massage therapy & massage therapy acupuncture. Please give us a shout at 587-401-2371 or visit our booking site to book in with one of our kick-ass therapists.
Integral's experienced therapists offer a broad range of specialized techniques. See the below list for the commonly requested techniques and visit our services page for detailed descriptions:
Leave us a review
We're passionate about physiotherapy
Help us continue to be one of the best physical therapy clinics in Edmonton with superior physiotherapy services!