Physiotherapist/Owner
Adam Giesbrecht
(he/him/his)
Three E's set Adam apart in his practice: education, experience and expertise. Adam's first clinical nickname was "wild man" (he has the flask to prove it) because he is willing to do whatever it takes to help his clients get their health on track and live their lives to the fullest.
Numerous sport-related injuries have landed Adam on several physiotherapy tables over the years and really driven home the importance of integrating great treatment techniques with an unforgettable experience. Adam knows the importance of providing effective rehabilitation and returning to activity as soon as possible.
I went to see Adam for lower back pain. The day after my first visit l I already felt so much better. Adam took the time to educate me on my injury. He provides me with ways to help prevent it from happening again and keep me moving. It is easy to see that Adam loves his job and genuinely wants to help his patients. He brings a sense of humour and a huge amount of knowledge to his work.

Katie Cherry
Adam's focus is unwaveringly on the needs of his clients. He brings a contagious enthusiasm and energy to the clinic each and every day, which translates into memorable treatments. He has found his best outcomes result from treatment focused on education and exercise, often augmented with manual therapy, active release technique and dry needling techniques such as IMS and acupuncture.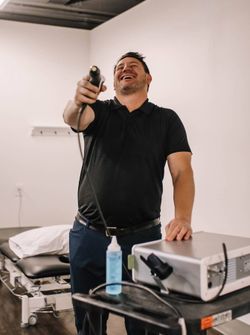 It is often said that active people make the best physiotherapists, and Adam is more than qualified in this regard. Adam grew up playing a wide variety of sports from hockey to baseball to golf. If he is not in the clinic or playing with his two amazing daughters you will most likely find Adam mountain biking, running, in the gym or playing hockey.
When it comes to working with clients, Adam is thorough, fun and highly engaged. Adam thinks of physiotherapy as Sherlock Holmes thinks of solving a crime – it is important to investigate the root cause (AKA culprit) of his client's pain in order to truly alleviate it!
Education, certificates and experience
Master of Business Administration, University of Alberta – 2010
Bachelor of Science in Physical Therapy, University of Alberta – 2005
The Robin McKenzie Institute of Canada, Part A – 2004
The Acupuncture Foundation of Canada Institute – 2006
Mulligan Concept, Upper Quadrant – 2007
Gokavi Transverse Technique – 2007
Swodeam Institute, Peripheral Manipulation, – 2012
Swodeam Institute, Spinal Manipulation – 2014
Swodeam Institute, Series 2: Upper and Lower Quadrant – 2015
Active Release Technique, Spine – 2012
Active Release Technique, Lower Extremity Level 1- 2013
Active Release Technique, Lower Extremity Level 2- 2019
Active Release Technique, Upper Extremity – 2014
Active Release Technique, Full Body – 2014
Active Release Technique, Long Tract Nerve Entrapments – 2014
Gunn IMS, University of British Columbia – 2013
Concussion Rehab Works, Concussion Management – 2014
Linda-Joy International, The Thorax – 2015
Linda-Joy International, The Sports Pelvis & Hip – 2016
Shift Concussion Management Program – 2016
Selective Functional Movement Assessment, Level 1 – 2017
Concussion: What about the neck? – 2017
Graston Technique – 2018
Fun facts
It is so tough to name just one favourite movie but my top three would definitely include Goodwill Hunting, Old School & The Departed.
I consider myself a closet nerd and love reading. Some of my favourite books are The Goldfinch by Donna Tarrt, All the Light We Cannot See by Anthony Doerr, Drive by Daniel Pink, and Thinking Fast and Slow by Daniel Kahneman.
I are watching TV, especially sports. Some of my personal favourite shows include Hockey Night in Canada, Sunday NFL Countdown, Peaky Blinders, Banshee, Game of Thrones, and The Leftovers.
Supple Leopard, Wild-Man.
I grew up in the small Northern Alberta community of Slave Lake where hockey was a way of life. These days I enjoy watching football, hockey, March Madness and golf. I also enjoy getting out on my mountain bike in the River Valley and ripping up the slopes downhill skiing.
Vibing with Adam? Book an appointment with him now!